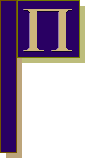 PI Engineering
724-378-1930 (Voice) 208-730-4774 (FAX) pie@engineeringpi.com (E-Mail)








Professional Service
PI Engineering offers professional engineering services at a reasonable cost. PI Engineering's service does not end with the project installation, whether you have a warranty or not. We offer maintenance coverage 24 hours a day, 7 days a week. Customer's have come to rely on PI Engineering's ability to provide prompt service when and where it is needed. Small or large customer, it does not matter. Take the case of a small manufacturer whose obsolete PLC that was controlling their product production failed. After the manufacturer exhausted all avenues of help, their local electrical supply company recommended that they call us. PI Engineering was able to find the necessary software and hardware, and also had the problem resolved within 4 hours.
Infinite Solutions
At PI Engineering, we pride ourselves on providing unique Engineered solutions. For example, one client had the problem of measuring their product during manufacturing so that it could be cut to length and not handled twice. All of the traditional methods failed. We at PI Engineering developed Optimeasure (patent pending), which is a non-contact encoder replacement to solve the problem.
Another client had a need to measure pounds of force for a pass/fail on their products. We at PI Engineering utilized off-the-shelf motion control products in a unique way to meet and surpass all of their expectations.
So...
What Can PI Engineering Do For You?
(Please see menu tab titled "Services" to see everything PI Engineering offers.)