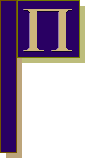 PI Engineering
724-378-1930 (Voice) 208-730-4774 (FAX) pie@engineeringpi.com (E-Mail)








Project History
Click on any project title to see pictures and more information of that particular project:
Project Profiles:
Plant Computer System- Project managed a ten million dollar real-time data acquisition system for a nuclear power plant. The project was finished ahead of schedule and we were the first in the United States to replace this system while the plant remained in operation.
Wastewater Treatment Control System- Designed, installed, and programmed a distributed control system for a Metals Company's Wastewater Treatment Plant. Our unique phased approach allowed the Wastewater Plant's sub-systems to be used during construction. This system reduced operator manpower from nine to three workers.
Cut-to-Length System- Designed and implemented a cut-to-length application with touch screen HMI and a in-house designed non-contact optical encoder (patent pending). We increased production, improved information flow to the front office, and greatly reduced production costs.
PLC Custom Test Equipment- Designed and implemented customized PLC test panels for a major PLC manufacturer. Enabled manufacturer to perform factory and field testing on a wide variety of their I/O cards with one panel.
Lightning Warning System- Designed and implemented a large RF based beacon activation warning system for a major metropolitan airport. This design enabled the project budget to be reduced by 50 percent.
Project Photos:
U.S. Airways LWS Control Panel- Ft. Lauderdale, FL
Heinz Field Electric Meter Reader
Inmetco Cadnium Recovery Furnace Control
NASA Solar Powered LWS Remote Annunciator
Tampa International Airport LWS Annunciators
Universal Refractories Dry Product Processor Motor Control
Universal Refractories Dry Product Processor Motor Control PLC
Westinghouse Ovation Test Racks Analog
Westinghouse Ovation Test Racks Digital
[ Back ]